Daredevil.
Edit
Daredevil is a 2003 American superhero film written and directed by Mark Steven Johnson. Based on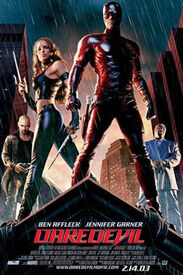 the Marvel Comics character of the same name, the film stars Ben Affleck as Matt Murdock, a blind lawyer who fights for justice in the courtroom and out of the courtroom as the masked vigilante Daredevil. Jennifer Garner plays his love interest Elektra Natchios; Colin Farrell plays the merciless assassin Bullseye; David Keith plays Jack "The Devil" Murdock, a washed up fighter who is Matt's father; and Michael Clarke Duncan plays Wilson Fisk, also known as the crime lord Kingpin.
The film began development in 1997 at 20th Century Fox and Columbia Pictures, before New Regency acquired the rights in 2000. Johnson shot the film primarily in Downtown Los Angeles despite the Hell's Kitchen, Manhattan setting of the film and comics.Rhythm and Hues Studios were hired to handle the film's CGI. Graeme Revell composed the Daredevil score which was released on CD in March 2003, whereas the various artists soundtrack album, Daredevil: The Album, was released in February.
Reviews of the film were mixed, praising Ben Affleck's performance but criticizing the lack of character development. The film was still a profitable theatrical run and became February's second biggest release: it was successful enough for a spin-off film, Elektra, which was released in 2005. In 2004, an R-rated director's cut of Daredevil was released, incorporating approximately thirty minutes back into the film, including an entire sub-plot involving a character played by Coolio. The director's cut was intended as an improvement over the theatrical version.
Elektra is a 2005 Canadian-American superhero film directed by Rob Bowman. It is a spin-off from the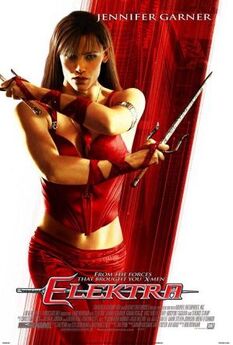 2003 film Daredevil, starring the Marvel Comics character Elektra Natchios (portrayed by Jennifer Garner). The story follows Elektra, an assassin whose weapon of choice is a pair of sai.
For the screenplay, Zak Penn, Stuart Zicherman and Raven Metzner received "written by" credit. Mark Steven Johnson received credit for "motion picture characters" and Frank Miller for "comic book characters." Filming started around May 2004 inVancouver.[2] It was the first superhero film released in 2005, followed by Batman Begins, Fantastic Four, and Sky High.